American Mary is the story of a very talented young med who is just trying to make it through school. When the bills started to fall behind and she starts to risk everything she had worked so hard for she makes an attempt to become a stripper. When she gets the chance to show off her skills as a dancer, she incidentally gets thrust into the world of underground surgery, at first disgusted and repulsed at the idea after a tragic and violent attack occurs she decides to take everything she has learned and knows about surgery and turns it on the aggressor. Utilizing her abilities as a surgeon she finds a way to pay her bills through the art of cosmetic surgery and extreme body modifications. (If you have ever heard of "BME Extreme" this is her forte) Leading to an entirely new life and existence from the Mary we see at the beginning. This is where we see a shift in, not only her personality, but every fiber of her being. Her blank stares and monotone performance leads the audience to believe that she has lost her humanity. I believe she has not only given up on the human race, but realized how crazy people truly are and that no matter what happens, she has found her true calling and embarks on making the best of it by increasing her skills as a surgeon.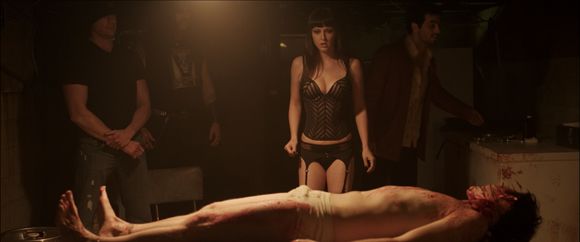 The movie itself takes a while to get going and I feel a lot of the readers may not be able to make it all the way through the film, if you have ADHD this is not the film for you, if you just get bored easily then this is also not the film for you. It's just one of those movies you really have to either be into from the get-go or just grin and bear it until it gets good. I guess you can say this is a very artsy film that does a really good job at being, shall we say…emo?
One of my biggest issues was that I was expecting a lot more action and involvement of the graphics department, seeing as how this is a movie about extreme body modification and all. The little bits of gore you see throughout the film give you nothing if you're a gorehound like me. One of the biggest things we see out of this is what she has done and continued to do to her aggressor. Although it only lasted a few minutes, you can see just how much hatred she has for this person and how she used them for her own "career advancement" At this point you see something different in Mary that you don't see at any other point in the film, the problem being that this lacks what I was hoping this movie was moving towards. I just really feel the production team could have done so much more with this film, especially her relationship, or lack thereof, with the bar owner and the overly modified "Betty Boop."
Mary's character was also lacking in development, although we see the change from semi-normal young adult to a girl disillusioned with humanity and scorned by her professor, which was done very well mind you. What we don't see is any sort of reaction to the events unfolding around her, she became this sort of sociopath who I eventually felt nothing for. Her untimely demise even had a lackluster feel to me that was more shoulder shrug worthy than actually feeling the slightest hint of emotion toward.
I really feel that the development of this film could have went a different direction or at least included some more  fun and interesting scenes that could capture larger audiences and keep you interested, but sadly that isn't what they decided to do and I was honestly rather disappointed.
(3/10)