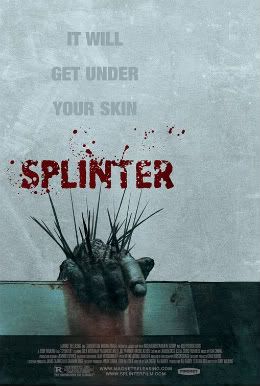 Splinter was one of the biggest surprises for me in 2009. After a very limited theatrical run in late 2008, it was finally released on DVD in April of 2009. Splinter is one of those movies that was never given a fare shake. It's technically a straight to video movie, but it was better than almost everything that hit the theaters that year. Had this film been given the proper marketing campaign, and given a Halloween theatrical date, it would have raked in the dough for the studio.
Splinter is a "body snatchers" style film, with some flare. it's gritty, claustrophobic, brutal, bloody, and beautiful. Shea Wigham puts in a stellar performance, as does the rest of the cast. Toby Wilkins does a good job at creating characters, without much time for character development. You really feel for all involved, which adds yet another level of suspense.
The effects are fantastic. The crew really got it right here, no nasty CGI mucking up the scenes, just beautifully executed practical effects. Also, the "Creature" is never really shown on screen long enough tor you to get a good look at it, couple that with the fact that it replicates it's victims, and it's nerve racking. You're constantly worried about which nook and cranny of this cramped convenience store our creature is going to jump out of. We're also treated to one of the most brutal, good looking amputation scenes in cinema history. Even if you're not easily bothered by the separation of limbs from their host, you're sure to flinch when it goes down.
I had the pleasure of viewing Splinter a couple of years ago, before it finally made it's debut, and this really garnered Toby Wilkins a spot on my list of directors who will likely lead us into the next generation of horror. If you like brutal, gritty, gory, claustrophobic films, set to the backdrop of a body snatcher invasion, you'll be pleasantly surprised with Splinter.
8.5/10