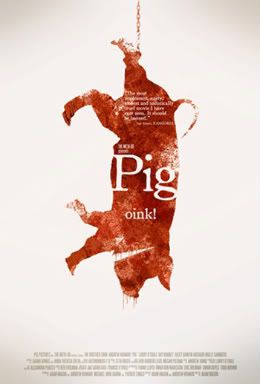 Adam Mason's "Pig" premiered free to all tonight, on bloody-disgusting, dreadcentral, and Twitchfilm. Mason was responsible for the mind-fuck of a film "The Devil's Chair." as well as "Blood River."
To call this a film would be liberal usage of the word. It's more of an experiment in the technical side of film making. There is no narrative, no character development, and honestly no purpose to the film. The bulk of the movie(70 minutes) was filmed in one take. If you explain this to the average movie goer, not only will they not care, but they most likely won't even know what you're talking about.
Now that I've explained that this isn't really a movie, but more of a talent showcase, let's delve into what worked for me. Knowing I was viewing one continuous take blew my mind for most of the film. The cinematography is nothing short of amazing after consuming that fact. Even more impressive is how they allow for F/X gags to be set up while the camera is running. A quick re-frame of the shot, allows for the off-screen crew to quickly set up the special effects. Some of the tricks used here were absolutely brilliant. Setting the kill in the bed of a pick-up truck, allows for them to make a quick cut to a wide-shot, while someone crawls on their belly, setting up the effects for the kill.
This isn't a movie to be enjoyed. In fact, I wouldn't recommend viewing this film to anyone unless they are not only an aspiring film maker, but interested in film making as an art form. It's hard to watch, and not because of the subject matter. While our main character prepares his "meal" the camera lingers on him, with his captive struggling in the background. This goes on for what seems like forever. A lot of the time, it made me feel like I was stoned. I knew something should be going on on the screen, but I felt so disoriented that I couldn't tell if I was missing something, or if that was just the way the movie made me feel. The acting is decent, considering there's not much coherent dialog, and that this is mostly happening in real time. The setting is believable, all-be-it a little bland. The music gets a tad annoying, with the same song being played in the back ground over and over.
If you're interested in becoming a film maker, and marvel at the technical aspects of a film, you may want to endure this experiment. You'll definitely be in for something original. But please, don't go into the flick expecting an enjoyable movie, because aside from marveling at the talent behind the camera, there's nothing to like here. Watch if you dare, and remember you've been warned.