Overboard (1987)
Starring: Goldie Hawn, Kurt Russell, Edward Hermann 
Writer: Leslie Dixon 
Director: Garry Marshall 
Review By: Eric King
Story:
A super hot/super bitchy heiress dumps workin' man Dean Proffitt off her boat after he does a job that doesn't meet her satisfaction. Later that night, she falls off the boat herself and suffers from amnesia. Her husband basically says "Fuck it! Party time!" and leaves her at the hospital. So, Dean develops a plan of revenge by convincing her that she's his wife.
Review:
I wanna start off here by saying I am greatly appreciative to be given the privilege of bringing the sappiness to The Liberal Dead's Kurt Russell Appreciation Week. I jumped on this boat pretty late in the game, and Shawn Savage forewarned me as soon as he handed out the invitation that most of Russell's iconic roles had already been taken. My immediate thought was "Well, I bet no one tackled Overboard!" I was right. Now, I love Russell in action/sci-fi/horror roles. I hold Jack Burton, Snake Plissken, and R.J. MacReady near and dear to my heart, but I gotta say Dean Proffitt is right up there, too! This was also the perfect excuse to re-visit a movie that I have many fond memories of watching with my mother, and I always welcome something as such with open arms. While Sci-Fi and Horror are the two main venues I cover on my blog, the opportunity to spit it out about non-genre films that I grew up on make me as giddy as a kid on Christmas, so here we go!
Garry Marshall has a lot under his belt. The dude has served as a producer and writer in many films, and is a pretty familiar face as an actor, too. When it comes to directing, he is mostly known for romance, dramas, and comedies, so it's safe to say he excels in said departments. We're talking about the director of fucking Pretty Woman for crying out loud, which was absolutely huge when it came out. The direction in Overboard is fairly basic; nothing real flashy, but it's all captured well enough to suck you into the story. John A. Alonzo serves as Director of Photography, but like I said, camera work is fairly straight forward. Leslie Dixon penned the story- she's responsible for writing two of my other favorite flicks, Loverboy and Mrs. Doubtfire. Overboard is very fairytale-like, so much that from a reality perspective it's completely ludicrous. Well, I don't know about the lot of you, but more times than not I watch a movie to fucking escape anyway, so it's all good. If anybody called this flick out for being unrealistic I'd probably just tell them to lighten the hell up for 90 minutes.
For the most part, Overboard is still incredibly laugh out loud funny. I watched it by myself this past weekend, and I'm not embarrassed to admit that I giggled profusely, or even that I shed a few tears of joy 'n shit. Basically, I'm just saying that the story stole my fucking heart and grabbed on to me in a way that it never did when I was younger. Sure, as a pre-teen I understood the laughs, but not the emotion, and there's a lot of that here. As the viewers, we all know straight away that Dean (Russell) is gonna take advantage of Joanna's (Hawn) amnesia for being such a bitch to him, and it's quite understandable. The poor dude is left alone after the death of his wife. He's broke and trying to raise four children. I can't even imagine. After he's dumped off of Joanna's boat for not meeting her expectations, we are dropped right into his home life. Slum like and crazy depressing, but he tries to make the best of it.  However, Dean's more or less just a great big child, and even though the loss of his wife is not fully explored, you get the impression through his demeanor that it's taken a heavy toll on him. Rightfully so.
Forward to Joanna- good grief this lady sucks. She's not just rotten to Dean, but to every damn servant who works on her boat, as well as her husband (but he fucking blows from the get-go, so that's irrelevant). So, when we watch her fall overboard in the middle of the night –and segue to her face on the television juxtaposed with a story of memory loss– the magic of this film really kicks in… especially when Dean catches wind of it. His face gleams like a fucking light bulb, and it makes you anxious to see his revenge. How righteous would it be to get such an opportunity? To literally turn someone's life upside down who has did you so very wrong? This goes on for a while. Dean conjures up stories to make her believe and renames her Annie. The kids put her through hell, and Joanna/Annie really has no choice but to take it, because she is convinced that this is what her life has always been. Then comes the transition.
Through living this white trash nightmare, Joanna/Annie comes to be a better person. Actually, her and Dean both become better people. But they also begin to truly care for one  another, and the kids absolutely love her. Once she starts to actually try to be a Mom (like when she goes to school and gives the bitchy principal hell over "her" kids, for example), it's utterly adorable. The romance between Dean and Joanna/Annie is fucking wonderful, there's no other way to put it. And this is what makes you wish all the tales he's spinning about their relationship were true. He goes from talking about them banging on a first date to weaving stories of heroism and true love. The Arturo/Catarina narrative is straight beautiful. All of this makes the reveal of her remembering her past absolutely CRUSHING. Buy hey, what's a romantic comedy without some tribulation? Nothing… at all.
Kurt Russell and Goldie Hawn have been a couple for damn near three decades, and have never married. Kinda reminds me of my lady and I. We have six years under our belt and it still feels like the day we met. Awwww. Anyway, what I'm getting at is that it may be unfair to talk about how absolutely amazing Hawn and Russell are in this movie, due to it probably being easy for them to work together. But it must be mentioned because they're a real delight. Hawn basically plays two parts, if you think about it, and she never misses a beat. Well, Russell grooves right along with her, when she's in bitch mode and in romance mode. It makes me wish that a sitcom had been made about these two fuckers just being awesome together all the time. Now, moving on to supporting characters…
The kids!
Edward Herrmann! When he's not father of 'The Lost Boys' he's partying it up on a boat with a bunch of hotties. After his wife goes overboard, of course. 
Billy, played by Mike Hagerty. He's Dean's bestie, and my favorite secondary character of the film. Wish he had a larger role.
Soundtrack and score- I had no idea before reviewing this that Alan Silvestri composed the music. I am a Silvestri fan (Young Guns II, Who Framed Roger Rabbit? I mean, c'mon!), so it's needless to say that when his name popped up in the opening credits I developed a shit eating grin a mile wide. And damn, the theme to Overboard has a super infectious bass line, mixed with some weird Deliverance-type banjo shit! Love it! When I'm alone in my house I sway back in forth like a mother fucker to music I normally would not move to if people were around. This is one of those instances. I'm gonna learn the damn bass line.
or
http://www.youtube.com/watch?v=XfSMNi2MsMc 
As for soundtrack, Elvis rocks "Can't Help Falling in Love" in a truly heartfelt moment, and Lincoln Chase's "Jim Dandy to the Rescue" is jammed more than once by Black Oak Arkansas, even in a montage sequence of Joanna/Annie (Hawn) learning how to do daily chores! Lastly, say what you want about Randy Newman, but his shit is usually pretty memorable, whether it be because it's annoying or awesome. His Toy Story stuff is a fave of mine, and the song he does for Overboard aint too bad, either.
Random Awesome Moments:
Kurt Russell Chainsaw Massacre!

Goldie Hawn Chainsaw Massacre!

Goldie Hawn's body. Great googly moogly!

But I'm actually more a fan of the down home look she sports when in "Proffitt wife" mode.
Kurt Russell shirt jerkin'!
Best way to attend to a cooking burn? Fire extinguishers.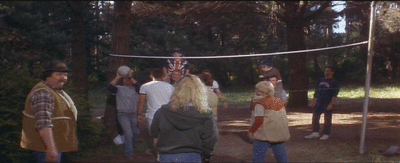 Volley ball shenanigans.
Final Words:
I don't always watch romantic comedies, but when I do, I prefer Overboard. Actually, I'm lying- I watch the shit out of rom-coms, but this is definitely a good 'un to admit to!
Thanks for having me!
~THE END~ 

–                    -Brobocop
Writer/Contributor:
ERIC KING is Back Online Back on Duty, a blog that features an amazing assortment of animated gifs the likes of which you have only begun to imagine in the fathoms of your fathomful minds. Stop by his amazing site. Stop by and like his FaceBook page.