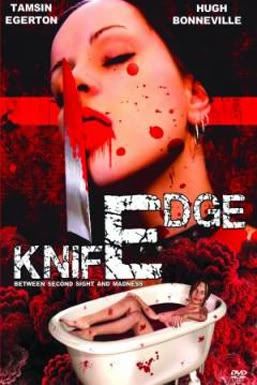 A successful Wall Street trader returns to England with her new husband and five-year-old son, but their new start together turns into a nightmare when they move into a country house which contains a terrible secret in Anthony Hickox's "Knife Edge"
I had high hopes for this film as a big fan of the "Waxwork" series, and "Hellraiser III: Hell on Earth", so once I saw Anthony Hickox's name I was ready for a fun horror ride, instead I was given heated up left-overs in the form of every 70′s haunted house cliché rolled up into one horrible film or perhaps a better term for it a casserole made of shit.
Regular readers of the site know that I love paranormal / haunted location flicks, I spent over two years doing investigations with a paranormal team when I lived in Ohio called R.I.P Ohio *Waves to V and all the old crew* so naturally I'm drawn to this subgenre like a fly to a bug zapper's hypnotic glow.

This movie plays out at such a slow pace you'll find yourself asking "what the fuck am I doing" on more than one occasion as if your brain is trying to forget the movie as you watch it as an attempt to save valuable brain cells from committing suicide to end the dull drool inducing pain caused by "Knife Edge"
For some reason and it may just be a case of bad dubbing but everyone in this movie speaks in a very quiet almost golf announcer like voice. It's like a blend of golf and late night poker on your television, I found myself fighting sleep like I just ate a handful of Lunesta's on multiple occasions.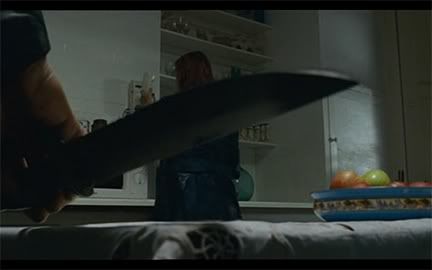 The story is a blend of all the great 70s and 80s haunted house films, you'll see hints of "The Changeling", "Burnt Offerings", even a little dosage of "The Shining" and various others. Sadly though this movie is nothing like any of the films it borrows from, sometime so blatantly you'll find yourself shaking your head in disbelief.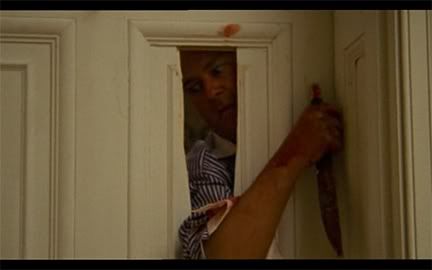 The cover art is very misleading, it makes it look like you're in store for a real blood bath but in reality there is very little gore in this film with only a bit at the last moments for the most part, but nothing that really stands out beyond just your basic special FX.
Honestly this film had zero redeeming qualities and see no reason for anyone to bother looking for this one unless they are simply desperate for something new to watch. On behalf of The Liberal Dead I give "Knife Edge" a 2 out of 10 and award for best multimedia sleep aid I've ever experienced.
2 / 10
- Ted "Ritualistic" Brown