I had the abosolute pleasure of being able to catch Chillerama in New York City this past Saturday at a midnight showing. Chillerama was less of a movie viewing "experience" and more of an "event" for me. I make this distinction because there are a number of things that made this trip special. For one, I live on Long Island, which is one of the WORST places to live if you're a movie lover (and just in general). All the movies that I want to see are always playing in the city, and it's not always so easy to get there because it's time consuming. Chillerama was a film I needed to see, I'm a huge fan of Adam Green, I think he is the face of contemporary horror, even if many dismiss him. I also respect Joe Lynch, Wrong Turn 2 is more than enjoyable in its own right, plus he's a sweet guy who's always reaching out to his fans. This was more than enough to get me and John Squires (Freddy In Space) to drive out on a Saturday night into the village to catch one of the few showings of Chillerama.
Attending this showing had some other benefits as well; Joe Lynch was scheduled to introduce the film along with The Diary of Anne Frankenstein's own, Kristina Klebe (who plays Eva Braun). Awesome? I think so. Anyways, after getting to the city and acquiring some food, we met up with Adam Barnick (film and writing extraordinaire) and made our way into the theater where we accosted Joe Lynch. It was his fault, he was in the lobby, don't hate the player! We shook his hand, talked about the movie, and John was able to get a photo with him because they were both wearing Fright Rags T-shirts. Check it out!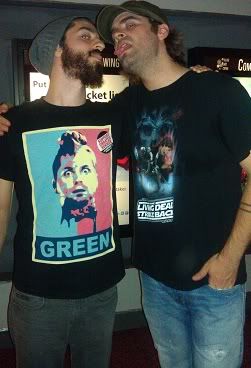 On the way into the movie hall, we received our free and beautifully drawn Chillerama posters. Snacks were bought and we got our seats. Before Lynch introduced the film, Lloyd Kaufman showed up and won everyone over with his usual big smile. I was able to record Lynch's intro, but be warned, the lighting was horrible in the theater so you'll pretty much only be able to hear him:
Let's get into the background of Chillerama first or at least the context. Adam Green, Joe Lynch, Adam Rifkin, and Tim Sullivan got together and decided that they wanted to create an anthology that paid homage to the midnight films of their youth. The film consists of 4 stories, 3 are standalone films, while Lynch's runs throughout the entire 130 minute runtime, creating an overall narrative thread. Chillerama is hilarious, gross, and gruesome. I had a blast, even if there were a couple of misfires.
The movie starts out with a man getting his testicles bitten off by his dead wife who he has unearthed. Little does he know that this will turn him into the undead. He makes his way to work, which is a drive-in movie theater, and though he is looking rather sick, tries to go about his business. The camera pans on different individuals who are on their way in to the drive-in in order to watch the last night of midnight films. The audience is treated to movies within a movie, Zom-B-Movie is Lynch's segment (the main narrative), and it works like connective tissue, where the other films are spaced by Lynch's own magic.
Wadzilla
The first movie that the drive-in plays is Adam Rifkin's Wadzilla. I was unsure whether or not Rifkins would be good, considering he has only directed one film worth noting (Detroit Rock City). Wadzilla is a throwback to the 50s monster films, where science was the enemy, men were outward misogynists and everyone smoked. A man (Adam Rifkin plays the main character) takes a drug that makes his sperm grow to an enormous size and it begins to wreak havoc on the city. The end scene has a sperm raping the statue of liberty. Yea, read the subtext there. Eric Roberts makes a cameo appearance playing General Bukkake, who leads the offensive attack against the monster sperm. The semen and dick jokes work well here and they provide some of the grossest scenes in Chillerama.
I Was A Teenage Werebear
Tim Sullivan's short sports some great material, but I felt it wasn't executed well and it drags Chillerama down. It's no secret that Tim Sullivan is gay, which is why this film grapples with the idea of "coming out". IWATW has a surfer boy growing up in the 50s (lots of retro settings in Chillerama) who's unclear about his sexual feelings. The kid is bitten by a werebear, and this in turn, makes him a furry, leather and chain wearing monster.  Once again, great sociological material but the better moments of the short are hampered by it being a MUSICAL. I enjoy Dr. Horrible's Sing-Along-Blog but that's about it, musicals are not for me and the whimsical nature of Teenage Werebear does not compare to the genius of the other shorts.
The Diary of Anne Frankenstein
Adam Green's entry will most likely offend some people, but if you have any sense of humor, I think you can put away your serious face. Take The Diary of Anne Frank and mesh it with Young Frankenstein, you come out on the other end with Green's short. I found this one to be the most enjoyable, mostly from Joel David Moore's (Hitler) performance, who shouts gibberish in a German accent in order to sound, well, German. Everyone else speaks authentic German but Moore shouts nonsense like "BOBA FETT" or "OSH KOSH B'GOSH"! It adds for some tear inducing laughing. Kane Hodder plays the "monster" and does what he does well; kill things. Except this time he brings out his humorous side and it surprisingly works well. I am a bit biased though, I love me some Adam Green.
Zom-B-Movie
Remember reading the intro to this review and hearing about the guy getting his ball-sack chewed off? Well, that comes full circle here as the drive-in is infected now from tainted buttered popcorn (his blood got into the machine). The characters you saw driving up to the movies in the beginning are now forced to take a last stand against the undead. The theater owner (Richard Riehle) arms himself and recites every great one-liner in film history as he blasts away zombies. The ending is comedic, romantic, and tragic. Not as gory as I wanted it to be but done well enough and it showcases Lynch as the horror director he is. Surprising that Lynch is technically the main act of the anthology, I only say that because his catalog is not very big. Whatever, it worked!
If you couldn't tell, I had an absolute blast watching this bloody, semen-y, and shit filled film. Chillerama appeals to that new wave of extreme horror-comedies, and may not be loved by all. If you don't care for that Green/Lynch style, this won't change your mind but no matter how you feel, you should support the movie.
Afterwards, we waited in the lobby and got to speak to Lynch again. He signed our posters and we thanked him for making a great cinematic experience. We left with smiles and though we were tired, we felt energized. This is the movie to see when it comes to VOD and Blu, you hear me? Chillerama has one purpose; to entertain, and boy, is it ever able to deliver.
Chillerama

(9/10)