Wow. 2011 ran up and hit and left a big mark on the face of the world. I'm still stinging a little, but I'm also analyzing the pain. It's quite bad. It's sore, it stings, and I think I'm bruised (though it didn't break the skin). I think about why I have this pain, and I think…wow. Was I dumb enough to do that?
But then again, it's not that bad. In some ways, it was a literal love tap. Actually, in a lot of ways it was a literal love tap. I feel the love, more than I feel the pain. And I can smile, pretty easy, and I think: wow. I really did all that.
I loved and hated a lot of what I watched this year. I'm going to share my greatest foes and my biggest crushes of the year with you. I don't expect you to get much out of it. I just want you to know how I saw 2011.
Let's go on to a bright new year. 2012 is gonna be awesome.
Ze Worst:
# 5 – Violent Shit (1989) – Okay, if I have to watch VS II in 2012, it won't be that awesome. Violent Shit is like an animal porn magazine, sold in a grocery store aisle; it's there, it's vulgar, and everyone hates it just because they look at the cover. And then they open it up and it's even worse. There's not much you can do with this one. Unless you like genital mutilation and random, starkly boring murder, it's pretty terrible.
#4 – Los Pornos Sin Sons (1992) – Look, I know there's Simpsons porn. It's called Rule 34. But that doesn't mean there has to be ugly, genital-warts-coated, real action Simpsons porn. Even Psyched by the 4D Witch was somewhat erotic, in a gross, creepy manner. This is just disgusting and childhood-murdering. Not to mention manhood-murdering. You will probably never again achieve erection in the wake of this abomination.
#3 – Kiss Meets the Phantom of Park (1978) – ARRGH. I. DO. NOT. LIKE. KISS. And it thus that I do not like this movie. Well, no—if I were a Kiss fan, I would hate this more. If such a thing is possible. The dialogue is terrible. The philosophy is mind-numbing. The acting will make your hemorrhaging feel much worse. (Hemorrhaging begins swiftly.) Worse yet, it has Kiss music in it!! This movie is really frickin' bad, but you don't start screaming until…
#2 – Heavy Metal Massacre (1989) – OH NO.
No, no, no. Heavy Metal Massacre is so bad. So bad that it is almost beyond definition. I don't want to accentuate the negative. But what seems like twenty hours of a moderately-average man mugging to a camera trying to look sexy, with only some "heavy metal" (in quotes 'cause it's horrible) and about one two-second kill scene…it is unbearable. I almost didn't make this one, I'm afraid. But still, at least it's not…
#1 – Science Crazed (1991) – Science Crazed is a, hmm, special kind of movie. The one that spends about twenty minutes looping the same two clips over, and over, and over, and over, and over, and over, and over, and over, and over, and over, and over, and over, and over, and over, and over, and over, and over, and over, and over, and not getting much done. Never have I hated exercise montages and Casio music so, so much. What is worse it that it builds your hopes, and then gazes into your eyes to break your heart. You will die screaming in flames, and there will be no one to weep over you. You are alone, and you will die alone.
It's horrible.
But now the crap is done. Let's move on to grandeur.
Da Best: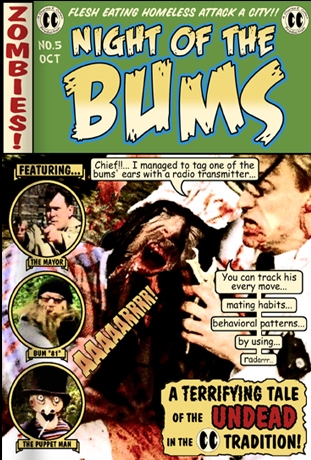 #5 – Night of the Bums (1998) – Finesse in homelessness—refuge in puppetry. There is a dark magic to the dark humor of Night of the Bums, and it spells happiness. From the zombie bums, to the cheapo witches, to the insane marionette that saves the day, and to the strange masked wrestler who shows up for five seconds, this movie is so random, so silly, that it moves into your heart like a mermaid through the ocean. It is wonderful.
#4 – Mutilations (1986) – A shockingly baked bearded professor
battles a clay alien to the death, right after a man quotes the Book of Exodus, and is then killed in a giant explosion. I laugh, I cry, I write love poetry. This is sci-fi mastery, on the lowest of all keys—it cruises along to its own rhythm, not having a care in the world, wearing the colors of a magnificent universe all along the way. Everyone should pick up the flag and rally the troops—Mutilations is amazing, nearly beyond compare.
#3 – Weasels Rip My Flesh (1979) – While Nathan Schiff is so, so good at scaring me shitless (Vermillion Eyes), this is soft, and this is weird, and that's the way (uh-huh, uh-huh) I like it. We have some mutant zombies; a couple shark-weasels; a couple arms getting torn off, and some really badass scenes on a distant planet. The Monster Kids return again! What a lovely generation they all were.
#2 – Criminally Insane (1975) – Nick Millard is a man so
unflinchingly awesome that I did a whole article that reviewed every single one of his horror movies. It will be coming soon in a series that I call "The Ghosts of Mudman's Past". (I'm behind on publication, due to denomination-free difficulties.) Therein you will see how amazing Criminally Insane really is—it is possibly the king of kings when it comes to these things. I won't ruin anything. Just know now that Criminally Insane is really one of the best movies I've seen, ever. It may even beat Ogroff. (Scandal!)
#1 – The Rider of the Skulls (1965) – The Greatest Western of All Time? Yes. Undeniably yes. Never forget The Rider of the Skulls. Cowboy action. Werewolf action. Zombie and witch action; vampire action; and most spectacularly, headless horseman action. Forget Wayne, forget Eastwood. The Rider of Skulls, with his skull mask and silver bullets, roams the desert in search of monsters to kill. Boy, does he find just the right monsters for the job. Completely insane (possibly Criminally so), this is the greatest movie I have seen all year. It cannot be down for the count.
2011 came at us swinging. Now the ref is holding our arms up. These movies were the Doc Louis to our Little Mac—they made life fantastic. J'avais une vie incroyable. Even in the face of the absolute terrors of bad metal and infinite loop clips, of violent feces and Simpsons porn…there was beauty. There were cowboys who fought vampires. There were fat lunatics with meat-cleavers. There was change, and there was triumph. The spirit of creation always prevails. It was a great year.
We here at the Liberal Dead hope you enjoyed it along with us. Let's see what's in 2012. If 2011 is the last full year we have to live…well, it was quite a gift.