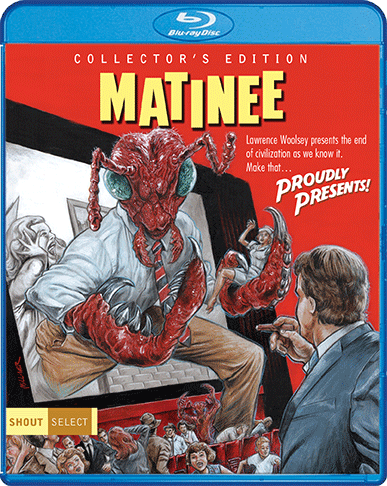 Synopsis:
It's 1962, and fifteen-year-old fan Gene Loomis (Simone Fenton) can't wait for the arrival of Woolsey, who is in town to promote his latest offering of atomic power gone berserk, Mant! But the absurd vision of Woolsey's tale takes on a sudden urgency as the Cuban Missile Crises places the real threat of atomic horror just 90 miles off the coast. With the help of Woolsey's leading lady, Ruth (Cathy Moriarty), the master showman gives Key West a premiere they'll never forget. Anything can happen in the movies, and everything does in this hilarious tribute to a more innocent (and outrageous) time in American cinema. –Shoutfactory.com
Review:
Matinee is a Joe Dante film that lays on the nostalgia heavily, for the William Castle era of horror. I'm too young to have personally experienced it, but Castle's movies were presented with sight and sound gags, to enhance the viewing experience. Seats were shocked, smells were pumped in, actors in creature costumes scaring the viewers. Theatrical horror used to be an event, almost a road show presentation. In Matinee, John Goodman is the William Castle character, and he has brought his epic show to the Florida coast during the Cuban Missile Crisis. As a distraction to the possibility of a missile landing at any moment, the entire town comes out to enjoy the show.
Not only is Matinee a great little movie, with plenty of nods to horror, but it's also a PG-rated movie that you can enjoy with your kids. Will they enjoy it? It's more likely that this movie would resonate with avid horror fans, for the nostalgia as one major reason, but there's plenty for a kid to enjoy as well. In fact, Matinee revels in the idea that horror used to be an outing for the whole family, when kids would flock to the theater to see the latest creature feature, before everything became about violence and sexuality. Don't get me wrong, I love gore and nudity, but being the parent of a young child myself, I wish more kid-friendly horror was being produced in this day and age. Not that Matinee is a horror movie itself, but it has enough horror themes and references that it may as well be. I was actually shocked that this was a Shout Select title instead of Scream Factory, but I'll take it however I can get it.
Shout! Factory's Collector's Edition Blu-ray release of the film is the perfect presentation. With a stellar 1080p transfer in 1.85:1. It may not be a ground-up restoration, but this HD transfer looks fairly gorgeous. There is no 5.1 track, which is to be expected, but the DTS-HD MA stereo track is more than acceptable. I heard no noise or distortion, so the audio presentation is crystal clear, and sounded great on my system. As you'll see below in the complete extra listing, the disc comes packaged with a wealth of bonus content. On the back of the box(like always) the extent of the extras is downplayed. It makes it seem as if there is only a couple of interview clips, but if you've seen these interviews on other Shout titles, you'll know that each one is individual, and that they play more like a well produced retrospective documentary. On top of these interviews, there is also the complete version of the movie-within-the-movie Mant! with introduction by Joe Dante, and a new documentary on the production of Mant, entitled Mantastic!. Also included are  vintage behind-the-scenes featurettes and footage, as well as deleted scenes, a still gallery, and of course the theatrical trailer.
Shout! Select's Collector's Edition Blu-ray release of Joe Dante's Matinee is now available and shipping. Purchase your copy by visiting the Shout! Factory website.
Extras:
NEW Master Of The Matinee – An Interview With Director Joe Dante
NEW The Leading Lady – An Interview with Cathy Moriarty
NEW MANTastic! The Making Of A Mant
NEW Out Of The Bunker – An Interview With Actress Lisa Jakub
NEW Making A Monster Theatre – An Interview With Production Designer Steven Legler
NEW The Monster Mix – An Interview With Editor Marshall Harvey
NEW Lights! Camera! Reunion! – An Interview With Director Of Photography John Hora
Paranoia In Ant Vision – Joe Dante Discusses The Making Of The Film
MANT! – The Full Length Version Of The Film With Introduction By Joe Dante
Vintage Making Of Featurette
Behind The Scenes Footage Courtesy Of Joe Dante
Deleted And Extended Scenes Sourced From Joe Dante's Workprint
Still Galleries
Theatrical Trailer